Data centres are at the heart of the modern digital economy. Organizations need the ability to access their data in real time so that it is an asset to their business. In addition, they are reliant on them for business continuity and data compliance.

But there are many challenges associated with sourcing the right data centres. You need to act on a range of issues: you're being asked to provide increased capacity more quickly and cost effectively, while reducing overall whole life running costs, in particular the cost of power and cooling.

We understand these pressures and offer a modular approach to building large-scale data centres so that we can address them all.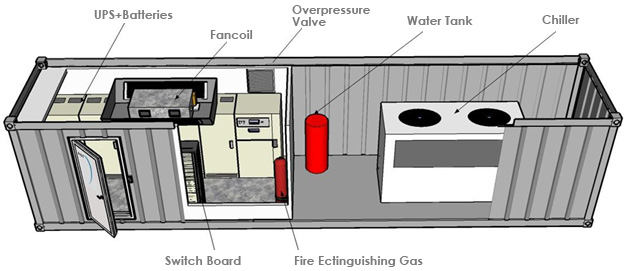 AST Smart Shelter Container (SSC) solution provides a fully functional Data Center inside a regular ISO container with complete infrastructure including: cooling, power, structural protection, fire protection, monitoring, access control, etc., achieving a total plug and play solution within a secure environment design, comprising a modular and flexible approach at the lowest PUE.

SSC is capable of accommodating up to 19 conventional racks in a 40' container with a range of densities starting at 5kW/rack and up to 30 kW/rack or higher upon request and even the integration of main frames. A range of service containers are offered providing the appropriate power and cooling needs to feed the IT containers. AST can provide SSC solutions in stand-alone or multi-container solutions of 10', 20', 30', 40' and 53' ISO containers.

SSC has been designed according to most demanding standards. Its components, assembly processes and quality control are executed according to the most demanding international processes and standards (IEC, EN, ISO, DIN, etc). NEMA and IEC versions available.