Early Smoke Detection System provides the earliest possible warning of potential fire hazard. It allows the team time to investigate and initiate an appropriate response thus preventing injury property damage and disruption to business.
Highest sensitivity range & multi-level warning system – able to detect even minute levels of smoke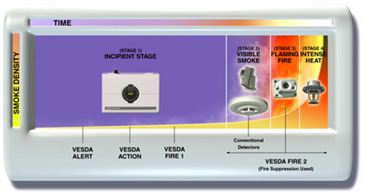 This diagram shows the progression of a fire over time. Note that the incipient stage of a fire provides the widest window of opportunity to detect and control the spread. VESDA detectors can be configured to generate multiple alarms within the incipient stage. They also can be configured to generate as additional alarms(Fire2) in the advanced stages of a fire. This feature is unique to VESDA and takes advantage of its wide sensitivity range that enables one detector to monitor the entire progression of a fire.
TYPICAL INSTALLATION OF EARLY SMOKE DETECTION SYSTEM