| | |
| --- | --- |
| Structured Cabling System | |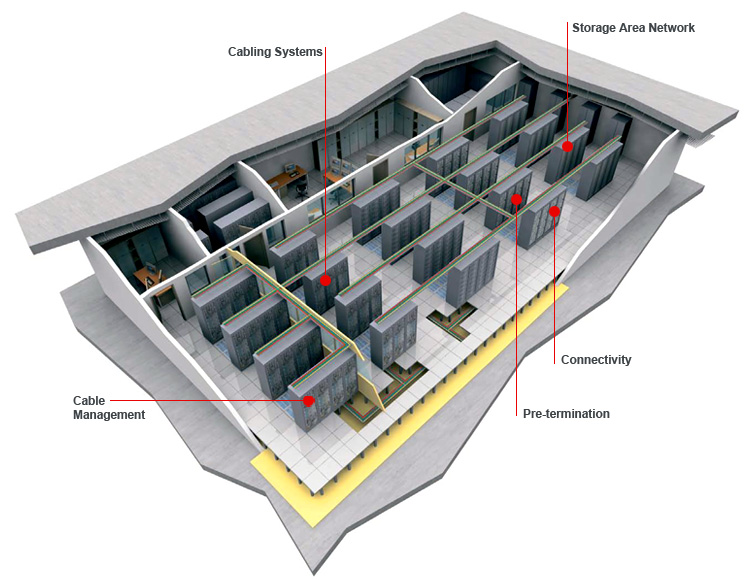 Cabling Systems
Cabling systems from R&M contribute decisively to making data centers flexible and available, secure and reliable, from the main distribution area to the storage area. These systems comply with standards and always lend themselves to modular and long-term use that is application neutral. Systems such as the R&M Angled Panel for the completion of backbones also allow optimum use of space, increased stability, and quick patching. The great value for money of standard copper cabling can be further optimized with systems such as the R&M Angled Panel.
Storage Area Network
A storage area has to function in the same way as a brilliant memory: quick, far-ranging, uncomplicated and reliable. Only an extremely efficient and dense fiber optic infrastructure can provide the transmission capacities required in today's storage area networks. The MTP/MPO Module is the ideal component to choose. When you have a task involving fast scaling and high packing densities, the MTP/MPO Module and LC are the solution to turn to. You can accommodate up to 96 fibers in one height unit while also supporting the coming network generation with 40/100 Gigabit Ethernet. As a plug and play solution,
this platform is ready for operation immediately.
Cable Management
Premium fiber optic and copper cabling can be installed in dynamically increasing quantities from the point of entry into the building to the individual rack.
The modular R&M Fiber Optic Raceway System supports data centers in meeting all the requirements placed on protected fiber optic cable raceways. Installation is simplified by automatic CAD planning aids, a lean, smart range and the fast installation techniques typical of R&M. Any further work with individual patch cables at the rack also has to be uncomplicated and effortless. The modular R&M Cable Management System for horizontal and vertical cable raceways is a complete and adaptable solution for just this task.
Pre-termination
With pre-terminated solutions from R&M, data centers can increase their efficiency and availability by orders of magnitude that are crucial for competitiveness.
Installation times are reduced by up to 75 percent thanks to individually assembled trunk cables, a custom cut cabling system and the provision of distribution cabinets all set for the desired application. Data centers save themselves the need for special tools, expensive and space-wasting excess lengths, a good deal of termination and splice work, installation waste and other disruptive factors in the sensitive areas around their installations. Operational reliability is ensured by 100% quality testing and documentation.

Connectivity
As technology leader in connection equipment, R&M offers modules for copper and fiber glass connections in data centers that are unbeatable in terms of precision, safety, stability and
transmission quality. R&M subjects each individual component and each pre-terminated cable to comprehensive quality testing before they leave the factory. The optimized IDC wiring technology for copper wires ensures life-long contacting free of errors and vibration and resistant to corrosion. The innovative Cat. 6A module from R&M is the ultimate in shielded copper cabling. R&M adjusts fiber optic connectors in accordance with the strict worst-case model to guarantee the best possible transmission of the light signal.